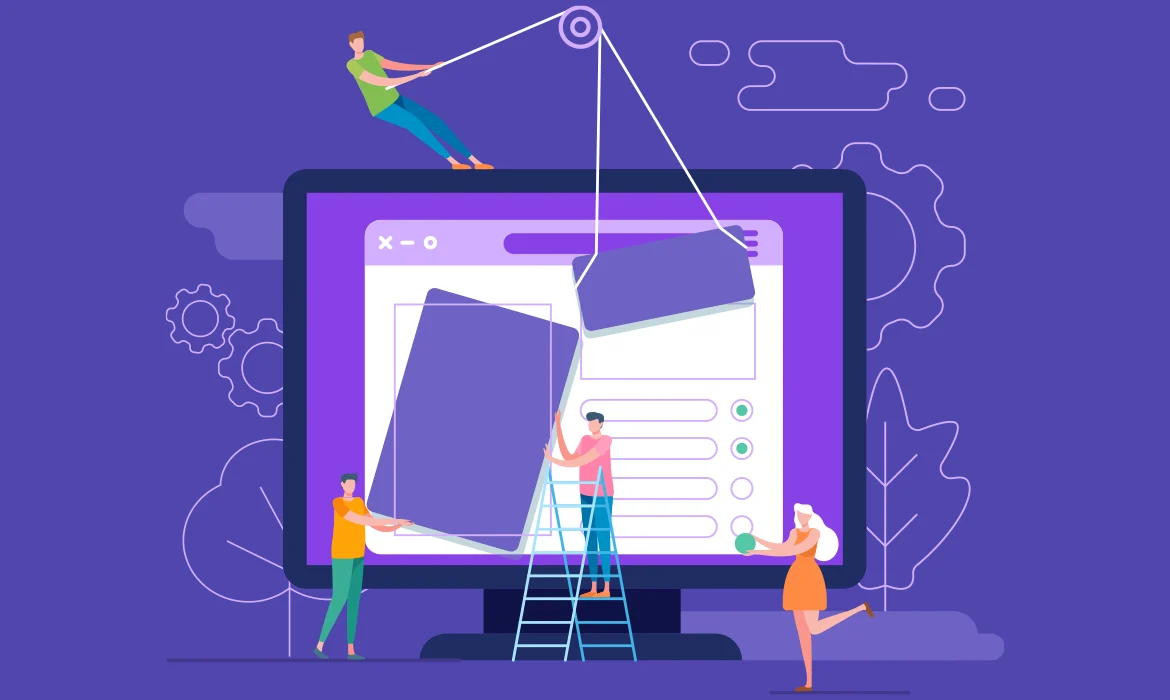 In the early days of computing, crafting a website from scratch was a challenge. Now, numerous website builders are available to complete the process in less time. Whether you're a first-time visitor to our blog or an experienced individual, our carefully crafted content is tailored to meet your needs. Regardless of whether you're a student, a business owner, or a tech enthusiast, this blog will help you construct a website from scratch.
We delve into a variety of concepts surrounding the start of website development.
Table of Contents
Why do you need a website?
The Significance of Having Your Website Statistics reveal that there are over 1.13 billion websites in existence, with WordPress powering more than 43% of them. Regardless of whether you're running a restaurant, a salon, an IT conglomerate, or an eCommerce enterprise, websites have become the lifeblood of industries. A solid web hosting infrastructure is the foundation of any website. This includes various hosting services like shared hosting, VPS hosting, dedicated server hosting, reseller hosting, and cloud hosting.
Website owners choose these services based on their specific needs.
Websites are accessible through PCs, tablets, and smartphones, and these device owners engage in online shopping. Thus, having a website isn't just advantageous but necessary for brand competitiveness. As we all know, the whole world is run by data; It is the website and its landing pages that give the brand credibility.
Steps for creating a website from scratch:
Step 1: Planning Your website

Start by defining your website's primary objective. Will it cater to Gen Z or mature readers? Does it contain tech or entertainment-related data? These considerations underpin successful website development.
Focus on these questions to strategically align your website with your business objectives. Initiate your journey from scratch, encompassing broader perspectives.
How will your product be showcased? What advertising strategy will you employ? These elements shape your outcome.
Furthermore, identify the website components you wish to include. Establish communication mediums with your target audience. If you are a developer, create chat forums and get feedback for further improvement. Don't overlook buyer personas. Consider age, gender, income, and other factors to fortify your website planning. Familiarize yourself with your target audience to promote regular content updates.
Understanding Your Audience: Proven Techniques
Customer Interviews: Interact with regular customers within your niche through in-person interviews. This approach simplifies grasping the interests of past and potential customers.
Connect with Ideal Customers: Identify and engage with your ideal customer base through interviews. Gain insights into the individuals who align with your brand.
Leverage Social Proof: If direct interactions prove challenging, guide platforms where opinions are shared. Employ social listening and hashtag analysis for pertinent feedback.
Data-Driven Insights: Data analytics yields valuable trends, that guide your approach. Illuminate the path forward by leveraging data-driven knowledge.
Mastering Website Goals:
A Blueprint for Success Whether you're a small business owner, a blogger, or a freelancer, the eCommerce trend dominates conventional purchasing behavior. To increase your online presence, it is necessary.
Resource Identification: Going the extra mile necessitates additional resources – be it personnel, an expanded advertising budget, or more. These resources will increase your journey toward website goals.
Setting Deadlines: Be resolute in your goals by establishing deadlines and consistently monitoring progress. Adapt as needed to overcome potential hurdles.
Realistic Aims: Define achievable objectives that align with your mission to enhance your online presence. Employ strategies proven to yield results.
Periodic Progress Review: Evaluate the trajectory of your website planning and seek input from your research and development team.
Step 2: Choosing a domain

Consider the case of the InfinitiveHost brand – highlighted through its domain "infinitivehost." Imagine a scenario where this clarity is absent. While creating a website, domain registration is necessary. Two things demand attention: your brand-defining domain name and the TLD (e.g., .com, .in) that categorizes your domain. Familiarize yourself with these distinctions. For instance, ".com" signifies commercial domains, while ".in" corresponds to Indian demographic websites.
Defining Domain Name
Domain names, comprising alphanumeric characters, map to IP addresses. The website you're currently reading has an IP address. Yet, human memory isn't equipped to retain IP addresses. Domain names, aided by DNS, enable user-friendly access to desired websites. InfinitiveHost extends affordable domain registration services, facilitating your online presence through the best web hosting infrastructure. Join the ranks of over 1 million hosted websites and pave the way for your digital journey.
Steps to Registering a Domain Name
First, determine your desired domain name—your unique address on the internet. Consider it your virtual real estate.
Then, check the availability of your potential names using InfinitiveHost's free tool. If available, proceed to select a registrar like InfinitiveHost.
Register and purchase your chosen domain name; each registrar offers distinct benefits and pricing. Complete the transaction by verifying your contact information and ensuring your domain isn't suspended.
Step 3: Selecting a web hosting service 

Picking the Perfect Web Hosting Service is the main point that requires your attention – web hosting infrastructure is the backbone of your site. But what is it?
Web Hosting in a Nutshell: Web hosting is an online service that provides users with server space through a subscription model. Subscribers gain access to store website files and data on physical servers. This includes advanced processors, ample bandwidth, and storage. InfinitiveHost takes the lead with Intel Xeon Processors, LiteSpeed servers, global data centers, and up to 25 Gbps bandwidth (exclusive to dedicated hosting).
Key Aspects to Evaluate When Choosing a Hosting Service
Choose a web hosting partner by considering the following factors:
Uptime Average: Uptime percentage significantly influences website traffic. The higher the uptime, the better the traffic. InfinitiveHost offers 99.95% uptime with SSD NVMe storage.
Technical Support: Access to reliable technical support is important, especially during website downtime. InfinitiveHost's 24×7 manual support availability through live chat, phone, and email ensures swift issue resolution.
SSL Certificates: SSL (Security Socket Layer) encrypts sensitive data between sites and browsers. It's crucial for transaction security. InfinitiveHost offers free SSL certificates, ensuring the best online presence and security.
Backup System: Regular backups safeguard against data loss. InfinitiveHost provides free daily backups, which are essential for unexpected incidents.
Storage Capacity: A solid storage capacity is vital. InfinitiveHost employs SSD NVMe storage, enhancing speed and energy efficiency across all hosting plans.
Purchasing Hosting Services
A Simple process of purchasing Hosting services
Navigate to the menu bar and select your desired hosting plan.
Choose an appropriate plan from the options provided.
Select the applicable options, like domain migration, domain registration, or Nameserver update.
If registering a new domain, add your desired name and extension, and check availability.
Add all features and preferred add-ons, such as SSL, Google Workspace, and more.
Proceed with checkout.
Step 4: Crafting Your Website Structure 

Your website's structure defines how the information is presented, designed, and connected. Non-responsive layouts lead 73.1% of users to exit sites and 34.6% to leave due to poor content organization.
Your site needs to be user friendly not bot friendly
In recent years, the gap between optimal techniques for enhancing websites for both human users and bots has decreased. However, a significant portion of website owners continue to emphasize optimization for search engine crawlers over the human experience.
Statistics suggest that about 40% of users are inclined to disengage from a website if the layout and content are confusing.
Streamline Links: Strike a balance between link interactions and on-page time by limiting the number of links per page. Opt for three to five links per 1,000 words to keep users engaged without overwhelming them.
Hierarchical Headings: Use a logical heading hierarchy (H1, H2, H3, H4) to organize on-page content coherently for both humans and bots.
Shallow Navigation: Users should access what they need within a few clicks. Keep clicks to a minimum, preferably four or fewer.
Implement Breadcrumbs: Breadcrumbs enhance navigation, allowing users to move backward and forward. Keep customers engaged with this handy navigation feature.
Crucial Website Pages and Their Roles
Homepage: Functioning as the primary gateway, the homepage often serves as the initial point of contact for visitors. While not all users enter through it, this is typically the first page they encounter.
About Page: Establishing credibility with your audience and prospective customers hinges significantly on your website's About Page. This page offers a concise overview of your website and the narrative that underpins your brand, ultimately leading to an enhancement in trustworthiness.
Contact Page: Allow visitors to reach out easily by providing comprehensive contact information, including addresses, phone numbers, emails, social media links, and business hours. Directing users to FAQs or knowledge bases can also enhance their experience.
Service Page (if applicable): For businesses offering services, this page outlines offerings. A clear, concise layout is essential, especially when presenting multiple services. Providing links to specific service details can enhance navigation.
Terms of Service Page: Similar to your Privacy Policy, a Terms and Conditions page outlines user agreements to access your site. It's a crucial legal aspect of your website.
Step 5: Crafting an Effective Website Design 

Essential principles that demand your attention. Adhering to these is imperative to achieving a captivating design for your website. Let's begin!
Tips for Crafting Exceptional Website Designs
Assemble Your Brand Elements: Are you attentive to colors, fonts, and imagery? Excellent! These fundamental brand elements present the identity of your website. For instance, bold text denotes dominance, while serif font exudes formality and authority. Incorporating typographic elements will further enrich the user experience, leaving lasting impressions.
Choose a Template or Theme: Imagine a picture within a frame. Different frames complement different images. Likewise, websites require fitting layouts for their content, images, text, and buttons. Pre-designed layouts or themes serve this purpose. If you're working with WordPress, an array of free and premium themes is available. Opt for a theme aligned with your brand's niche, preview it, and then proceed to download it.
Outline Your Site's Structure: What's your internal linking strategy? As per SEO guidelines, internal links are crucial. Determine the number of web pages your site needs and contemplate the content type and general layout that best serve your website design.
Utilize White Space: Strategically Introducing whitespace within your webpage design offers visitors visual ease. This practice is crucial for both website design and content creation. It not only minimizes distractions but also amplifies readers' focus. When information overload looms, whitespace effectively segments content, especially on the homepage and vital pages.
Streamline Navigation: Visitors rarely linger on a single page. "About us," "Contact us," and other internal pages beckon exploration. Thus, ensuring effortless navigation falls within your realm. Keep it simple. Employ a horizontal bar to facilitate scrolling, a widespread technique for enhancing navigation ease.
Elevate Your CTAs' Visibility: "Add to Cart," "Buy Now," "Call Us"—you've surely encountered these prompts while browsing a website. What are they? They're CTAs (Call to Action), guiding users to sign up, subscribe, or take specific actions. To craft engaging CTAs, consider factors such as background color, surrounding images, and accompanying text. Make these elements stand out.
Incorporating these tips will undoubtedly contribute to the excellence of your website's design.
Principles for Effective Website Design
Embrace Simplicity: Simplicity remains paramount in web design. Avoid clutter and complexity, favoring a clean, user-friendly interface.
Establish a visual hierarchy: Guide the user's attention through a clear visual hierarchy, directing focus to essential elements. Size, color, and position influence what users notice first.
Prioritize Load Time: Fast-loading websites enhance the user experience. Optimize your website for speed to prevent user frustration.
Maintain Consistency: Consistency in fonts, colors, and styles across pages fosters a cohesive user experience while allowing for necessary diversity.
Ensure Accessibility: Adhering to accessibility standards ensures your website caters to all users, including those with disabilities.
Highlight Quality Content: While design engages users, quality content keeps them engaged. Balance both for the best user experience.
Step 6: Crafting Compelling Website Content 

Website content is the heart of engagement. Here's how to create effective content:
Writing Effective Website Copy
Keep It Simple: Simplicity fosters readability. Avoid jargon and complex language, aiming for a clear and easily understood tone.
Be Concise: Trim excess and stick to concise, meaningful content. A rule of thumb is to keep sentences under 20 words.
Emulate Natural Speech: Write as if speaking to your audience naturally. This approach resonates better with readers.
Take Breaks: Regular breaks maintain productivity and fresh thinking while writing.
Break Up Content: Use paragraph breaks to segment content, enhancing readability.
The Power of Visuals
Capturing Attention: Compelling visuals capture users' attention, boosting traffic by 94%.
Enhancing Sales: Emotional images aid sales by conveying messages more effectively.
Improving Engagement: Engaging visuals decreases bounce rates, leading to more leads and sales.
SEO Impact: Engaging images improves SEO and search engine ranking.
SEO Basics for Content
Headers and Sub-Headers: Use headers and sub-headers to enhance readability and SEO optimization.
Hyperlinking: Internal and external links boost SEO ranking and user engagement.
Article Length: High-quality, longer content often ranks better; aim for 1500+ words.
Keyword Integration: Incorporate relevant keywords naturally for improved search visibility.
Step 7: Installing Essential Plugins and Tools 

Learn how plugins and tools can help you improve your WordPress website:
Understanding Plugins and Tools WordPress plugins enrich your site's features, offering varied functionalities without coding.
Exploring Plugins and Tools
Plugins and tools play a crucial role in WordPress website development. They enable users to seamlessly incorporate additional functionalities without requiring coding expertise. This empowers you to create a feature-rich content management system without the need for complex coding.
These tools span from minor utilities to extensive extensions designed to increase the functionality and customization options of your WordPress site. Let's take a swift overview of some essential WordPress plugins to enhance your website.
Crucial WordPress Plugins for Your Website
WPForms
Building WordPress contact forms shouldn't need hiring developers. That's precisely why WPForms was developed – an intuitive, powerful WordPress form builder that serves both beginners and experts.
WPForms facilitates the creation of captivating contact forms, feedback forms, subscription forms, payment forms, and more, all within minutes. Prioritizing user experience, WPForms provides pre-built forms and workflows, making it particularly accessible for beginners.
All-in-One SEO
For WordPress SEO optimization, the pioneering choice has been All in One SEO for WordPress. This comprehensive plugin has gained the trust of numerous savvy website owners, employing its ability to optimize WordPress sites for search engines.
Ensuring a proper WordPress SEO setup shouldn't necessitate hiring developers or SEO experts. With All-in-One SEO, you can increase your website's SEO ranking and unearth new growth opportunities in under 10 minutes, making it one of the most exhaustive WordPress SEO plugins.
MonsterInsights Among WordPress plugins
MonsterInsights boasts over 3 million active installations, securing its position as a leader. Understanding precisely how users engage with your website is a potent strategy for doubling traffic and sales. Empowered by MonsterInsights analytics and statistics, you can confidently expand your business.
This plugin facilitates easy integration between your WordPress site and Google Analytics, allowing you to make informed, data-driven decisions.
SeedProd
Initially, SeedProd provides the capability to craft "Coming Soon" and "Maintenance Mode" pages. This allowed visitors to encounter these pages while you engaged in website enhancements.
The user-friendly nature of SeedProd's page builder sparked a desire among users to design their complete websites using it. Responding to widespread demand, SeedProd now enables you to construct entire WordPress websites with its tools.
Spectra
Suitable for both beginners and experienced designers, Spectra offers user-friendly features and abundant capabilities.
Spectra empowers designers to effortlessly modify websites to their specific needs using an array of pre-designed templates. Beyond aesthetics, Spectra focuses on optimizing website performance through efficient code and performance features, ensuring visually appealing sites deliver exceptional speed and functionality.
Pretty Links
Rather than relying on services like tinyurl.com or bit.ly, Pretty Links allows you to shorten links using your domain name. This not only creates clean, branded links but also tracks link hits, providing comprehensive reports on sources, browsers, and operating systems.
A benefit for enhancing affiliate links, tracking email clicks, and improving website reach, Pretty Links is a powerful plugin.
Shield Security
Diverging from conventional security plugins, Shield Security prioritizes intrusion prevention over repair. It proactively blocks potential threats before they can inflict harm, offering robust protection for your website.
No other independent WordPress security plugin adopts this security approach, surpassing even plugins like Wordfence, WP Cerber, Ninja Firewall, and All-In-One Security. The initial phase of any robust security system is detection and prevention, which is then followed by the repair process—both of which Shield Security effectively accomplishes.
How to Install and Configure Plugins?
Installing WordPress plugins is a straightforward process.
Follow these typical steps:
Log in to Your WordPress Dashboard: Access your WordPress dashboard via your website's URL (website.com/wp-admin).
Navigate to the 'Plugins' Section: On the left-hand menu, locate and click on the "Plugins" section.
Click 'Add New': At the top of the Plugins page, you'll find the "Add New" button. Click it to initiate the plugin addition process.
Search for Your Plugin: A search bar is available at the top of the Plugins page. Type in the name of the plugin you're seeking and press Enter.
Click 'Install Now': Once you've located your desired plugin, a button saying "Install Now" should be present. Click this button to commence the installation process.
Activate the Plugin: Upon successful installation, the "Install Now" button changes to "Activate." Click this button to enable the plugin and ensure its functionality.
Configure the Plugin: Different plugins come with varying settings. You'll typically find these settings under the "Settings" section in your WordPress dashboard or in a dedicated menu for the plugin. Consult the plugin's documentation if you're unsure about configuration.
Step 8: Testing Your Website 

Now, it's testing time! Validate the effort you've invested so far. Website testing is essential to analyze your measures and identify any potential gaps. This section highlights the significance of testing, the testing process, and how to address any shortcomings.
The Importance of Testing Your Website Several factors emphasize the importance of comprehensive website testing:
Functionality Assessment: Testing is vital to identifying and rectifying even minor flaws or issues, ensuring your website functions smoothly. Addressing broken links, extended loading times, and wrong outputs.
Browser Compatibility: Different web browsers exhibit varied functionalities. Ensuring cross-browser compatibility is integral, enabling your website to perform consistently across various browsers.
Device Responsiveness: Testing device responsiveness is essential to guarantee that your website adapts seamlessly to different screen sizes and devices. Addressing this aspect is critical for optimal user experience.
Performance Evaluation: Performance testing focuses on assessing loading speeds and overall site performance. By identifying and resolving issues related to loading times, you enhance user satisfaction and retention. Utilize tools to gauge loading speeds and optimize accordingly.
Components of Website Performance Testing
Page Selection: To conduct a valuable performance test, pinpoint specific pages for analysis. Include highly visible, well-performing, and poorly performing pages to obtain a comprehensive view of your site's performance.
Speed and Load Analysis: Evaluate your website's speed and load time, critical factors influencing user engagement and conversion rates. Monitor metrics such as time to render, time to first byte, and time to document completion.
Optimization Planning and Implementation: Upon identifying performance gaps through testing tools, devise a plan to address these issues. Performance analysis tools often provide detailed reports along with tips to correct them. Take action on these insights to increase your website's performance.
Step 9: Launching Your Website 

Congratulations, you've reached the final step of – launching your website! This section outlines the steps to launch your website and emphasizes the significance of this crucial phase.
Steps to Launch Your Website
The success of your website is closely tied to effective digital marketing strategies. Therefore, building an online presence requires not only building trust but also understanding the customer lifecycle.
Here are the steps to successfully launch your website:
Choose Hosting and Domain Name: After planning your website, secure a relevant domain name that reflects your brand. Opt for a simple yet distinctive domain name that aligns with your brand identity. Register your chosen domain name and obtain server space through a reliable web hosting plan.
Create Pages and Content: Meaningful content and well-structured pages are the backbone of your website. Develop essential pages such as the home page, about us section, contact us page, and other relevant pages that enhance your brand's credibility and establish connections with your target audience.
Implement Search Engine Optimization (SEO): Optimize your website for search engines to achieve higher visibility and rankings on search engine results. Focus on both technical and non-technical aspects of SEO to drive increased organic traffic to your site.
Ensure Responsive Design: Ensure your website design is responsive and user-friendly across various devices. Evaluate and enhance the design to ensure consistent functionality and visual appeal across different screen sizes.
Wrapping Up
In conclusion, embarking on the journey of crafting a website from scratch involves a detailed and informative step-by-step process. By following these stages, from conceptualization to design, development, and launch, you have the tools at your disposal to bring your digital vision to life.
Remember that every choice you make, from selecting design elements to optimizing functionality, contributes to the final result. The online world has limitless possibilities, and with the foundation laid by this comprehensive guide, you will be well-equipped to navigate and conquer the world of website creation. So, embrace the process, let your creativity flourish, and watch as your website evolves from an idea into a captivating digital reality.
Also Read:- 9 Tips To Boost Your Core Web Vitals In WordPress