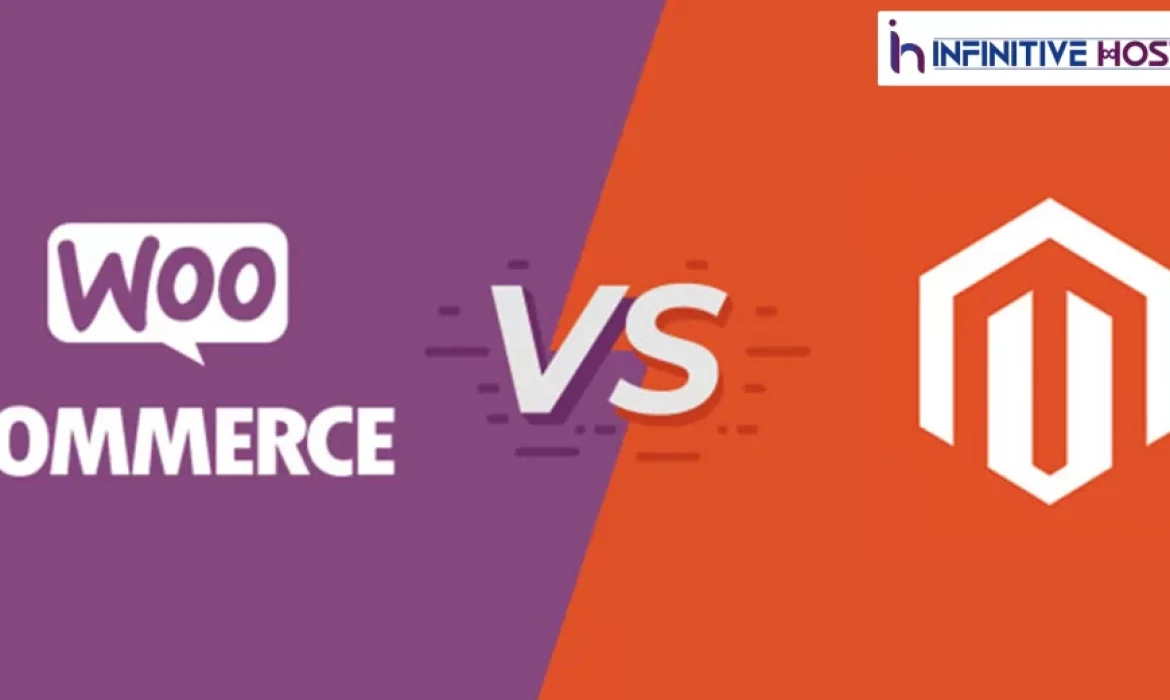 WooCommerce and Magento are both powerful e-commerce platforms with many useful features and a large user base. It's difficult to determine a clear victor, and comparing the capabilities of the various options may leave you bewildered and your clients unable to make purchases on your site.
Good news: we're here to help you figure things out. While there may not be a "one size fits all" answer to the challenges of online business, armed with the correct information, you can always choose the approach that is best for you.
Fans of each platform will go to any lengths to defend it and insist that it is the finest. We chose to ignore the clamour and investigate on our own to provide you with objective information as you make your choice.
Key features, performance, security, price, newcomer friendliness, and even product administration are compared between WooCommerce and Magento in this post. When you're done reading, you'll have a firm grasp on which option is best for your situation.
Features unique to each service
This article will provide a comprehensive overview of both systems for anyone interested in learning more. After that, we'll review the outcomes and award a winner.
WooCommerce
In the WordPress community, WooCommerce is a household name. Nearly 400,000 websites are hosted on this phenomenally successful e-commerce platform. With its extension system, you may add even more features to your store, but out of the box, it offers nearly everything you need to launch an online store.
The essentials:
* Allows an unbounded quantity of goods to be supported.
* Included is a powerful plugin-based extension system, modelled after WordPress.
* Using add-ons, you may integrate with any payment gateway you choose.
* Provides access to many different layouts, both paid and unpaid.
Pros:
* Aside from the cost of hosting your website, opening an online business requires no upfront costs.
* If you're familiar with WordPress, it won't take you long to learn.
* Users may access a plethora of helpful resources, including manuals. Furthermore, if you have any further inquiries, you may get in touch with the project's crew.
* Allows for seamless integration with Google Analytics with a dedicated add-on.
* Integrated support for SSL; however, you'll need to acquire your own certificate.
Cons:
* Without WordPress, you'll have to familiarise yourself with not one but two new platforms.
* The cost of premium plugins and layouts may soon mount up.
* Will novices find it easy to grasp?
* Users with no e-commerce expertise will find WooCommerce to be a suitable option, especially if they are already familiar with WordPress. If you haven't used WooCommerce before, you'll be pleasantly surprised by how well it's documented and how many helpful lessons you can find online.
Price:
All of the code for this platform is freely available online, so it may be installed on any server at any time. However, its premium add-ons may be rather pricey, and some even need a yearly membership. Apart from that, the amount you pay for web hosting is totally subject to the scope of your business and the packages your provider offers.
Magent
WooCommerce markets itself as a user-driven option, whereas Magento caters more to large enterprises. Smaller companies shouldn't assume they can't use its features, though. While the free Community Edition is capable of handling most small businesses' needs, Magento also provides a more robust Enterprise Edition for corporations. The features available in the Community Edition will be the primary focus of this analysis.
*  As any self-respecting platform should, it allows for an infinite number of things to be sold.
*  Includes an in-built theme and page layout system.
*  Features powerful application programming interfaces (APIs) for integrating with other services.
*  Administrative dashboards and product development environments that are easy to use.
* One advantage is that it can easily expand to meet your needs. If your server is up to the task, Magento should have no trouble running a sizeable store.
* Reduced wait times at checkout are a perk for shoppers. Moreover, the option to allow guests to check out is enabled by default.
* Directly supports the three most popular online payment gateways: PayPal, Authorize. Net, and Braintree.
* Negative Magento has a steep learning curve, making it seem more suited to developers than casual consumers.
* Its Enterprise Edition is designed for large businesses, hence it can be expensive for those businesses to purchase.
Will novices find it easy to grasp?
When comparing Magento to WooCommerce, out of the box, Magento doesn't feel as beginner-friendly. Users may work around this by consulting the platform's rich documentation, and the platform does provide extra benefits for those that persevere with it. This platform is ideal for ambitious users who want to rapidly expand their stores and also have the time to learn how to utilise it properly.
The only expense you'll incur is through your current hosting provider, as Magento's Community Edition is open-source and free to use. Users interested in the Enterprise Edition, however, would have to fork out a hefty sum.
What about results?
Websites in general, and e-commerce websites in particular, have a lot riding on their loading times. Some visitors will just give up waiting for your site to load if it is unresponsive or slow, costing you business.
It's not easy to determine which strategy is the most effective when it comes to performance. It's important to remember that the functionality and size of your online store will affect how it behaves on any given platform. The choice of web server, the presence or absence of a Content Delivery Network (CDN), and the optimization of pictures are all relevant considerations here.
Your hosting company and you will have the most impact on how well your online business operates. There will be no winner in this particular round.
Concerning safety, what are your thoughts?
It's hard to overestimate the significance of safety measures for online marketplaces. Customers have reasonable expectations that their personal information and financial data would be secure when transacting with your business.
Your online shop's security is mostly up to you, much as its performance. It is possible to add a number of extra layers of protection to your online store with both WooCommerce and Magento, but you have to do so mostly using third-party plugins and While no platform is completely safe, Magento customers have access to specific security fixes, putting them ahead of the pack.
Magento security fixes, while necessary, aren't exactly a breeze to implement. Unfortunately, many Magento businesses are out of date because e-commerce rookies are intimidated to make changes on their own.
Nonetheless, if you value safety above all else, and you have some knowledge of web programming (or are willing to pay for assistance), Magento is your best bet.
Winner among WooCommerce and Magento
For those just starting out, the decision is easy: go with WooCommerce. Since it is simple to implement and inexpensive, it is ideal for startups who have a limited budget but a pressing need to get their business up and running. Users may open a virtual shop for just about anything, from home-based businesses to…
Even so, Magento is an excellent e-commerce platform. To begin, it excels in terms of scalability, making it the best option for established businesses that are looking to expand into the realm of electronic commerce. In spite of the hefty cost of the Enterprise Edition, it more than justifies itself in terms of performance and usefulness. We compared how challenging it would be for a new user to begin using any of these platforms. WooCommerce dominates because it is easier to use and hence more appealing to people interested in online commerce.
Read More:- How to Avoid Getting Your Email Blacklisted?
Conclusion
Because no one platform can meet the demands of every user, deciding between WooCommerce and Magento was difficult. Some of you could agree with us in selecting WooCommerce, while others would feel more at home with Magento. As well as your specific requirements, you'll need to think about things like speed, safety, product management, and cost.