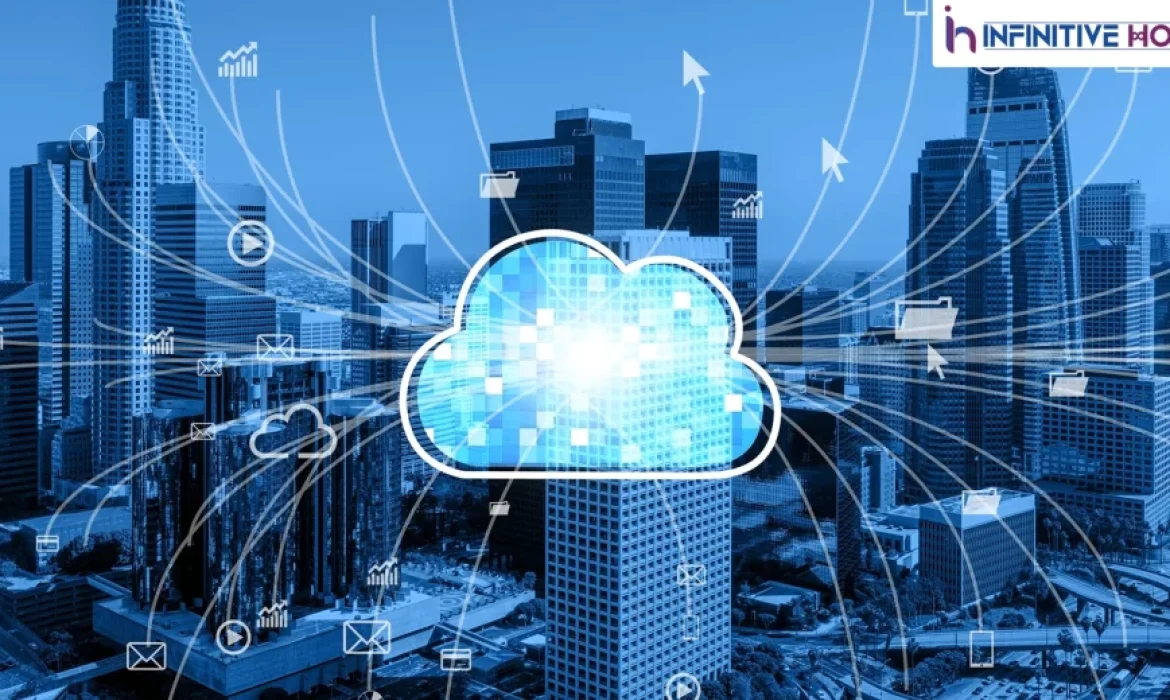 If you've ever considered hosting a website or application, you've likely encountered the term cloud hosting.
Rather than storing your website or application on a single computer, the Cloud enables you to distribute your data across a network of interconnected servers distributed across a large geographical region. These servers reside solely in a virtual environment, therefore the term cloud.
Because cloud hosting leverages the computational power of several machines, you not only get far more potential than you would with traditional hosting, but you also gain access to the services offered by those machines. This is the point at which things start to become fascinating.
What is Cloud Hosting?
A hosting server is the first item on your checklist when it comes to launching a website on the internet. Cloud hosting does not require a single server to host a website. Instead, multiple servers constitute an autonomous hosting environment when they are connected, and their resources are pooled on a high-speed network. A provider utilises cloud technology to combine several servers into a single large server with vast resources in layman's terms.
A cloud hosting service links several servers to a single fast and stable network, allowing data to be transferred instantly. The provider then virtualizes the servers on the network to make them function as a single server machine. As a result, a cloud server with near-unlimited resources and rapid data connectivity is born.
How does Cloud Hosting Work?
Cloud hosting is accomplished through the use of virtualisation. It is a computing system that partitions a real server into several virtual computers referred to as cloud servers. These are then connected to form a single network capable of hosting a website. This form of hosting is also known as cluster server hosting due to its linked cloud structure. Cloud hosting is distinguished from traditional web hosting by its basic architecture. The latter solution is often centralised, with several sites being stored on a single server.
Benefits of opting for Cloud Hosting Service
The primary advantages of Cloud hosting systems include the following:
A high degree of availability: The remaining servers step in to keep the website operational when one server goes down. This increases the reliability of Cloud hosting in comparison to traditional web hosting, which requires a site to rely on its server remaining online at all times.

Traffic Load Balancing: When a website receives traffic, the infrastructure distributes it evenly among the cloud servers. This assists in maintaining the site's performance when it receives increased traffic.

Enhanced security: Due to the fact that cloud hosting utilises several servers in a virtual environment, it is often less prone to disasters and physical failures. In Addition, the load balancing capability might aid in the prevention of DDoS assaults.
Features of Cloud Hosting
So, why has the hosting industry shifted from dedicated server hosting to cloud-based services? A more complicated (and expensive) setup is certainly required. But, surely, there are a few huge advantages to this, right?
Now that you bring it up, adopting cloud technology instead of a typical dedicated server has some fantastic advantages.
On-demand server sizing and resource prioritisation aren't possible with traditional VPS devices. Pay-as-you-go is the standard price strategy of Cloud Hosting, and there is no minimum charge. As long as you utilise the services you pay for, there are no long-term commitments or complicated license agreements to deal with.
As long as the monthly cap fee is not exceeded, services are charged on an hourly basis. The monthly fee is divided by 672 hours to arrive at the hourly rate (28 days). You will only be charged the monthly amount after 672 hours of use in one month, and you will only be charged the monthly amount (672 hours). There is no limit on the number of servers that can be created and utilised at any given time. You simply pay for the amount of time that you actually use.
If your website is hosted on a single machine and that machine fails, your website is lost. On the other hand, if your site is shared among a collection of networked devices that all hold the same data and one of them fails, the other machines may pick up the slack, and the site remains available.
If you have any questions about the impact downtime may have on your site – and, by extension, your business – consider this well-known Amazon example. On Prime Day 2018, server troubles pulled the site offline for just 13 minutes, costing Amazon over $100 million in missed sales. This equates to more than $120,000 each second.
In addition to the above benefits, cloud hosting is quite adaptable. Now, more than ever, you can select a unique solution that is specifically tailored to fit your needs. Choosing from a basic package that doesn't exactly meet your needs isn't required. There are several options when it comes to setting up a cloud-based infrastructure.
Maybe the front end of your site is little, but the database you're using is enormous? It's possible that a small site has to host enormous files for download. There is no limit to what the Cloud can do for you.
If you're still not convinced, consider the fact that you can run your server right from your smartphone if you want to take the cloud server route. Furthermore, cloud computing eliminates the necessity for physical access to a data center, favouring a simple internet connection.
Types of Cloud Hosting
Prior to developing a website, it is critical to understand the sort of web hosting that should be used. The provider you choose should have sufficient resources and excellent performance to support the site without exceeding your budget.
Public Cloud
A cloud is referred to as a "public cloud" when its services are dispersed via a network that is open to the public. Technically, the security issue for services (applications, storage, and alternative resources) made available by a service provider to a public audience differs significantly between public and private cloud frameworks. Once exact communication is created, Cloud hosting clients require customers to obtain a personal connection to a peering purpose given by the cloud provider.
Private Cloud
Private cloud computing refers to cloud infrastructure dedicated to a single enterprise and is not shared with any other entity. A private cloud project's virtualisation of the business environment requires refining. It will benefit business, but each stage of the project will exacerbate security concerns that must be addressed to avoid significant vulnerabilities. Typically, self-managed data centers are capital demanding. They require a sizeable physical footprint, a high fraction of available space, high-end gear, and stringent environmental controls. In addition, such assets need periodic re-invigoration, which may necessitate additional capital investment.
Hybrid Cloud
Hybrid clouds can be composed of two discrete cloud types or a more significant number of cloud types (private, communal, or public) that serve distinct entities but are digitally connected, allowing for the benefits of several deployment strategies. For example, Cloud hosting clients may be able to connect co-location, managed, and dedicated services to cloud resources via hybrid Cloud. However, because hybrid cloud services span isolation and provider borders, they cannot be classified as personal, public, or community clouds.
How Can Infinitive Host help with Cloud Hosting Services?
Infinitive Host is really technology-neutral. We recognise that cloud computing is the best answer for practically every technical business difficulty, but we are not committed to any platform. Instead, we always offer the most incredible option for the particular circumstance, whatever that circumstance may be.
If you'd like to speak with one of our managed cloud hosting professionals about how we can help you get the most out of your hosting, why not contact us?
Read More : Effective Comparison b/w Containers and Virtual Machines (VMs)
Takeaway
The Cloud's intrinsic adaptability implies that it will continue to grow and change. With this feature, your hosting environment may be quickly adapted to meet your ever-changing demands. Cloud hosting is becoming increasingly popular as a result of its advantages over traditional IT solutions. Innovative solutions are now possible using the Cloud. It is feasible to create things that were previously impossible to construct under prior hosting methods because of the economics of Cloud technology.
Cloud hosting is a cost-effective middle ground that allows for quick customisation and upgrades possibility. Small companies are increasingly turning to cloud hosting to satisfy their day-to-day requirements. Small firms might benefit from a low-cost working environment while still having access to a specialised pool of resources. As a result of their RAID-10 and other redundant design, Infinitive Host has a 100% up time. In addition, a firewall and intrusion detection system (IDS) can be added to any of our Cloud Hosting plans for further protection.
You have complete control over your cloud hosting experience with us because of our industry-leading cloud hosting platform. We've built our programs to be as flexible as possible for businesses and developers. Please email us at [email protected] if you have any questions. Our experts are here to help you find the best option for your business.