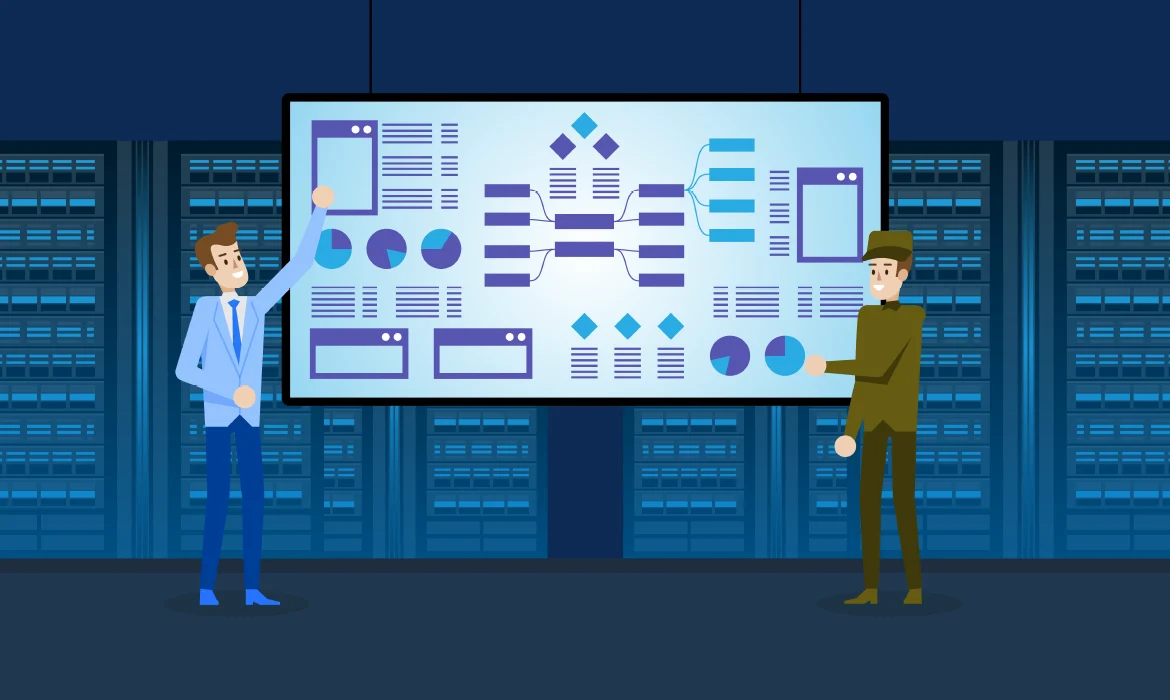 In the ever-evolving world of web hosting, VPS Servers (VPS) have emerged as versatile and powerful solutions catering to diverse website needs. A VPS offers the perfect balance between shared hosting's affordability and dedicated hosting's performance.
Table of Contents
What is VPS hosting?
VPS hosting is a virtual machine and virtualization server that allows you to store website data and files on a shared server that looks like a dedicated, private server. All resources share the same physical web space as many other virtual machines.
All resources on the server (memory, disk space, content, processor speed, etc.) are shared by all other virtual machines, but run independently, providing unlimited bandwidth and additional customization capabilities.
What is the purpose of VPS Servers hosting?
VPS hosting is mainly used for developers, programmers, eCommerce websites, software-as-a-service (SaaS) providers, and agencies that create more than one website.
Virtual Private Server (VPS) hosting serves several important purposes for businesses and individuals who require a more advanced and customizable hosting solution compared to shared hosting.
VPS hosting offers:
· File storage which can be accessed anywhere
· Safe and secure backup environment
· Assistance for Email hosting and cloud-based hosting
Flexibility is an important factor of VPS Server
A VPS hosting package offers unmatched flexibility. Whether it's managed VPS, unmanaged VPS hosting, or Linux-based VPS, the virtual server's scalability is truly remarkable.
The method of virtualization used to create individual private server partitions allows each virtual private server to be fully customized, enabling the installation of any desired software, operating system, or package.
The best-managed VPS hosting providers offer server capacity upgrades (memory, CPU, etc.), facilitating seamless scalability up or down as needed.
A private server or VPS can be managed or unmanaged, with the client assuming full responsibility for software updates and patches.
A virtual private server is an excellent choice for operating SaaS projects like personal clouds or VPN servers, as well as websites with a reasonable volume of concurrent users.
Different Types of VPS Server (Virtual Private Servers)

Did you know that there are different types of VPS servers, each tailored to unique requirements? Let's take a deep dive into the various types of VPS servers available today.
Server-Based Linux VPS Server Hosting
Cloud VPS
Cloud VPS (Virtual Private Server) hosting is a type of hosting service that combines the benefits of virtualization technology with the flexibility and scalability of cloud computing. It provides users with a virtualized environment on cloud infrastructure, offering dedicated resources and a high degree of control over their server environment.
Windows VPS
A Windows VPS (Virtual Private Server) contain a virtualized hosting environment designed to operate on the Windows operating system. It provides users with a dedicated portion of a physical server's resources, allowing them to have a virtual server that functions independently within a shared hosting environment. Windows VPS hosting is particularly suited for websites, applications, and projects that require compatibility with Windows-specific software, technologies, or programming languages.
It's a great choice for businesses that depend on Microsoft technologies for their operations.
Linux VPS
Linux VPS (Virtual Private Server) hosting is a type of virtualized hosting service that runs on a Linux operating system. It provides users with a dedicated portion of a physical server's resources, allowing them to have an isolated virtual server that operates independently within a shared hosting environment. 
Linux VPS is built for those who prefer the open-source flexibility of Linux operating systems. With a plethora of distributions to choose from (Ubuntu, CentOS, Debian, etc.), Linux VPS is widely popular among developers and businesses looking to harness the power of open-source technologies.
Types of VPS Hosting based on Server Management

Managed VPS Server
A managed VPS is designed for those who want a hassle-free hosting experience. Under a managed VPS, the hosting provider takes care of server management responsibilities, such as software updates, security patches, and ongoing maintenance. This option is perfect for businesses or individuals who lack the time or technical expertise to manage their server environment.
Unmanaged VPS Server
Unmanaged VPS puts the responsibility of server management on the user. Ideal for experienced developers and system administrators, an unmanaged VPS provides complete control over server configurations, software installations, and security measures. While it offers unparalleled customization, it demands technical proficiency to maintain and troubleshoot the server effectively.
How to Select the Ideal VPS Plan?
The choice of the right plan often revolves around the decision between managed or unmanaged VPS plans. We believe that this is a straightforward question to ask.
If you don't have much time and expertise to manage a server and have no specific OS or software needs, then a managed VPS is the best choice. However, if you want full control over server configurations and software installations, then an unmanaged VPS is the best option.
Here are a few additional factors that help you in decision-making.
Features: Managed VPS plans come up with default features that streamline web hosting for simplicity. For an unmanaged VPS, you'll need to pay extra for any desired services you want included in your plan.
Security: If you don't have an experienced person in cybersecurity, it is best to leave your web host and only focus on your website's protection. However, if you possess knowledge in this domain or hire a third-party developer, an unmanaged VPS enables you to carefully increase the security of your server.
Price: Although an unmanaged VPS may seem more budget-friendly due to its lower costs, a managed VPS plan consistently proves to be the most cost-effective solution when factoring in all the supplementary features and paid services that might be required later on an unmanaged VPS. Infinitive Host offers effective and affordable VPS hosting services.
Also Read:- Benefits Of VPS Hosting For High -Traffic Websites
Wrapping Up
In conclusion, the diverse world of VPS servers offers options for every need and skill level. Whether you're a tech-savvy developer seeking complete control or a business owner looking for a hassle-free solution, there's a VPS type tailored to your requirements. Understanding these various types empowers you to make an informed decision and select the VPS server that best aligns with your goals and aspirations.
Choosing the perfect VPS plan requires factors such as features, security, and price. VPS hosting, with its various offerings and customized solutions, redefines the hosting landscape. Infinitive Host provides effective and affordable VPS hosting services, to move your web hosting experience to new heights.