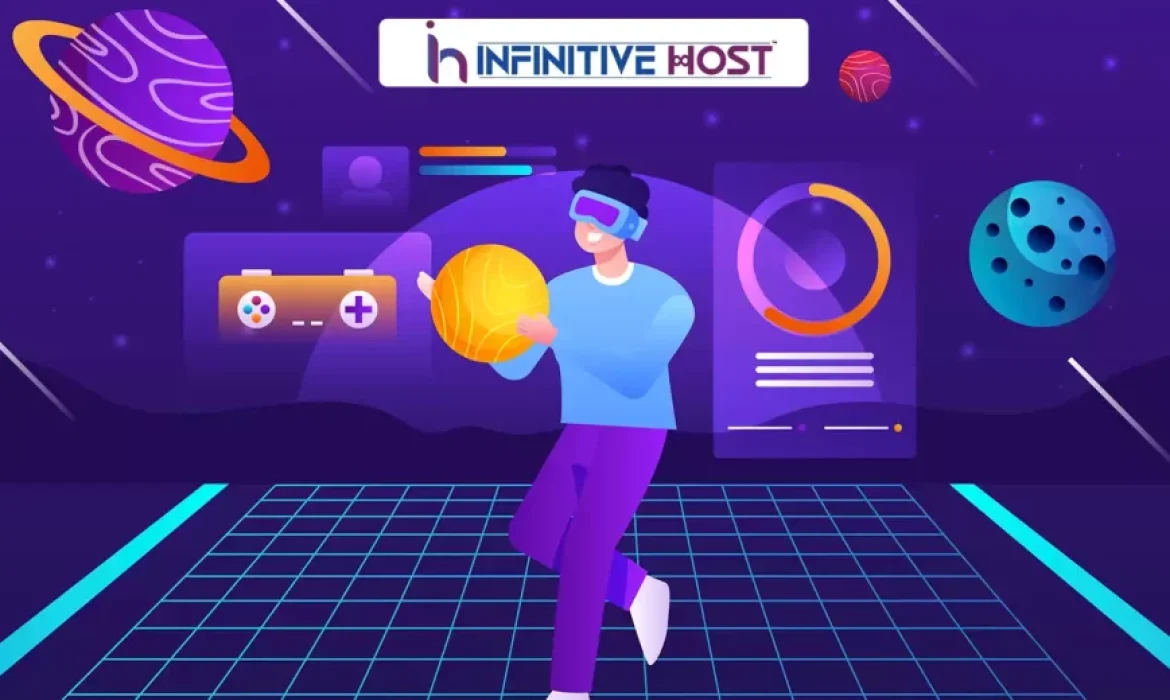 I. Introduction
A. Definition of the metaverse and its concept in science fiction and popular culture
The idea of a metaverse has always fascinated science fiction writers and readers. The term "metaverse" was first used by Neal Stephenson in his 1992 book "Snow Crash" to describe an expansive, immersive, and linked VR universe in which users may interact with one another and a wide variety of digital settings. Films like "The Matrix" and "Ready Player One," which imagine a future in which individuals abandon their physical bodies for a virtual one, have helped popularize this idea.
B. Thesis statement: The metaverse represents the next frontier of digital interaction, offering a immersive and interconnected virtual reality experience.
The metaverse used to be science fiction, but thanks to technological advancements, it is now within reach. The metaverse has the potential to completely transform how we live our daily lives by providing us with new ways to communicate, collaborate, and relax in the digital realm. This blog will explore the many facets of the metaverse, from its definition and major components to its technical underpinnings, current uses, potential, consequences, and obstacles. By the conclusion, you will have a better grasp of this novel idea and its possible repercussions in the world at large.
II. Understanding the Metaverse
A. Definition and characteristics of the metaverse
A shared, permanent, and interactive digital realm, the metaverse is the result of the convergence of virtual reality, augmented reality, and other new technologies. It's massive in scope, letting players discover an almost infinite variety of locales and settings. The metaverse provides a more consistent and fluid experience across platforms than either conventional video games or standalone VR experiences, allowing players to easily go from one to the other.
B. Distinction between virtual reality (VR), augmented reality (AR), and the metaverse
Virtual reality and augmented reality (VR/AR) are not the same thing as the metaverse. With the use of VR equipment like headgear and controllers, users are placed in a computer-generated world. However, augmented reality improves our view of reality by superimposing digital information over it.
The metaverse extends existing technologies by integrating them into a larger framework that encourages communication, collaboration, and the maintenance of digital personas across time. It allows users to collaborate with others and explore expansive virtual worlds, going well beyond the scope of traditional VR/AR experiences.
C. Historical context and evolution of the metaverse concept
The first virtual communities, MMOs, and social networks were the forerunners of today's metaverse. These forerunners provided inspiration by demonstrating the potential for collaboration and user-generated content. Improvements in hardware, networking, and processing power have all played a role in the metaverse's steady growth through time, expanding the realm of possibility.
The introduction of blockchain technology, which permits safe and decentralized transactions, has also contributed greatly to the growth of the metaverse. By facilitating the creation and acquisition of individual digital assets, blockchain lays the groundwork for a digital economy and grants its users full legal title to their digital belongings.
Read More:- Everything You Need To Know About Metaverse
III. Key Elements and Components of the Metaverse
A. Virtual worlds and environments: Creation, exploration, and customization
Virtual settings are the backbone of the metaverse. These virtual environments might be anything from a fantasy world to a realistic simulation. Users may design their own environments, explore those designed by others, and alter their settings to better suit their tastes and personalities. In the metaverse, artists and consumers might blend into one another in an effort to construct a better environment for everyone.
B. Avatars and virtual identities: Personal representation in the Metaverse
Avatars allow individuals to represent themselves digitally inside the metaverse, facilitating movement and communication between users. Creating an avatar that looks and acts like you is a fun way to express yourself creatively and individually. By taking on the form of an avatar, users might feel more at home in the virtual world.
C. Social interactions and communication: Collaboration, networking, and shared experiences
The importance of social connections is one of the metaverse's distinguishing characteristics. Users from different locations may instantly interact and work together on a same project. The metaverse is great for fostering community and shared experiences, such as when people gather together for virtual conferences, travel around virtual worlds, or play multiplayer games. It's a way for individuals to interact as if they were in the same room, forming bonds and sharing experiences as if they were physically there.
D. Economy and virtual assets: Digital currencies, virtual goods, and marketplace
The metaverse is home to its own economy, which is supported by digital assets and virtual currency. Secure transactions throughout the metaverse rely heavily on cryptocurrencies like Bitcoin and Ethereum. Users have the option to purchase, sell, and trade a wide variety of virtual commodities, including but not limited to virtual apparel and accessories, virtual real estate, and rare in-game items. Entrepreneurship, innovation, and increased prosperity may all flourish in the digital economy of the metaverse.
IV. Technological Foundations of the Metaverse
A. Virtual reality (VR) and augmented reality (AR) technologies
Virtual reality (VR) and augmented reality (AR) play a crucial role in creating immersive and interactive experiences in the metaverse. Through the use of virtual reality (VR) headgear, haptic feedback devices, and motion tracking systems, users are immersed in and able to interact with digital worlds. Smart glasses and smartphones are examples of augmented reality technology that enable us to see and do more in the metaverse via the use of digital information superimposed on our physical surroundings.
B. Cloud computing and distributed systems
Distributed systems and cloud computing provide the scale and processing capacity necessary for the metaverse. With the use of cloud-based infrastructure, the metaverse can easily store, analyze, and distribute the massive amounts of data produced by its millions of users and linked virtual worlds.
C. Blockchain and decentralized infrastructure
Secure and transparent transactions, verification of ownership, and the establishment of digital scarcity are all made possible by blockchain technology, which offers a decentralized framework for the metaverse. By giving people complete authority over their digital possessions, blockchain facilitates the growth of a trustworthy digital economy.
D. Artificial intelligence (AI) for enhancing user experiences and interactions
The metaverse would not be the same without the contributions of artificial intelligence in the form of improved user experiences and interactions. Algorithms developed by AI can tailor what users see and do, suggest new experiences they may like, and improve the way we communicate by interpreting natural language. With the use of artificial intelligence, virtual assistants can help users navigate the metaverse and cater to their specific needs.
V. Current Applications and Examples
A. Gaming and entertainment: Virtual worlds, multiplayer experiences, and eSports
Metaverse innovation has been driven mostly by the gaming and entertainment industries. User-generated content (UGC) may survive in virtual environments like "Second Life" and "Minecraft," allowing players to build, discover, and socialize with one another over time. Games like "Fortnite" and "Roblox" that encourage player cooperation show how the metaverse may be social in nature. With its competitive and spectator-driven character, eSports has also found a home in the metaverse, where big tournaments and events are held in virtual stadiums.
B. Virtual conferences and events: Remote collaboration and immersive gatherings
Virtual conferences and events have become more popular as an alternative to in-person meetings because to the COVID-19 epidemic. People from all around the globe may join the same virtual conference or trade expo because to the metaverse's remote collaboration features. These online gatherings imitate face-to-face contact, facilitating new connections and the dissemination of information.
C. Education and training: Simulations, virtual classrooms, and skill development
The metaverse might completely change the way we teach and learn. The immersive and engaging learning environments provided by simulations and virtual classrooms allow students to participate in hands-on activities and simulations that would otherwise be difficult or impossible to access. Virtual training programs and simulations for a wide range of sectors, including healthcare, aviation, and manufacturing, are also available in the metaverse and give chances for skill development.
D. Virtual marketplaces and e-commerce: Buying, selling, and trading virtual assets
There are now venues in the metaverse to purchase, sell, and exchange virtual goods, or "markets." It's now possible to buy and sell digital works of art, virtual properties, and gaming assets on online markets. Brands and corporations have already begun to set up shop in the metaverse, selling virtual goods and hosting exclusive events to attract and retain customers.
VI. Opportunities and Implications of the Metaverse
A. Transforming work and collaboration: Remote work, virtual offices, and global teams
The metaverse might revolutionize our approach to teamwork. With virtual offices, remote workers may feel more connected to the company and their colleagues, and teams can work together in real time from different locations. The metaverse eliminates physical constraints, enabling teams from all around the world to collaborate in real time.
B. Redefining social interactions: Cross-cultural connections, new forms of expression, and inclusivity
The metaverse may facilitate intercultural communication and promote acceptance by redefining the nature of social relationships. Users are able to interact with others on an even playing field regardless of their location or level of physical or mental ability, breaking down traditional boundaries of class, race, and gender. Digital art and performances provide up new avenues for expressing oneself creatively and uniquely.
C. Economic and business potential: New industries, job opportunities, and monetization models
Financial prospects, new business methods, and the creation of whole new markets all spring from the metaverse. There is potential for business and artistic growth in the creation, sale, and purchase of virtual products and services. New industries are sprouting up in the metaverse economy, such as virtual property construction, virtual fashion, and virtual experiences.
D. Ethical and societal considerations: Privacy, digital rights, and social impact
There are moral and social issues raised by the metaverse that need to be addressed. Users' need for privacy and data security grows as they spend more time and reveal more of themselves in the metaverse. Protecting intellectual property and other digital rights requires transparent legal structures for the benefit of both producers and consumers. It's also important to think about the metaverse from a social perspective, making sure that everyone feels welcome and that different perspectives are heard and respected.
VII. Challenges and Considerations
A. Technical barriers and infrastructure requirements
There will be technological hurdles to overcome before the metaverse may be realized. Experiences that are both seamless and immersive need powerful technology, fast internet connections, and low-latency networks. Improved user experiences in the metaverse need developments in display technology, haptic feedback, and network infrastructure.
B. Standardization and interoperability between different metaverse platforms
The concept of the metaverse cannot be realized without standardization and compatibility amongst metaverse systems. Common protocols, data formats, and interoperable systems are needed to allow for the smooth transition between different virtual worlds and experiences. It will be crucial for industry players to work together and reach agreement in order to develop these guidelines.
C. Security and trust in the metaverse ecosystem
Trust and safety must be maintained as the metaverse grows. Maintaining user trust requires taking measures to safeguard user information, restrict unwanted access, and counteract cybersecurity risks. Identity verification, fraud prevention, and user safety are all areas where the metaverse presents unique issues that call for ground-breaking solutions and fortified safeguards due to its decentralized structure.
D. Ethical concerns and safeguarding against exploitation and abuse
The metaverse raises moral questions that must be properly explored. It is important to solve concerns like user privacy, online abuse, and virtual property rights in order to build a sustainable and welcoming metaverse ecology. Clear rules, codes of behavior, and moderating systems are needed to avoid abuse, exploitation, and other potentially undesirable social effects in the metaverse.
VIII. The Future of the Metaverse
A. Vision for a fully realized metaverse and its potential impact on society
The potential of the realized metaverse is a digitally networked environment that blends naturally into our physical reality. It imagines a future where virtual and actual encounters merge, radically altering our day-to-day activities. The metaverse has the ability to revolutionize whole businesses, encourage international cooperation, and open up new avenues for artistic expression.
B. Collaboration and convergence of industries for metaverse development
Constructing the metaverse calls for multi-industry cooperation and synergy. There has to be collaboration between IT firms, content providers, game designers, artists, educators, and policymakers to determine the future of the metaverse. Innovation, inclusion, and responsible design and development will be fueled by interdisciplinary methods, collaborations, and open discourse.
C. Integration with emerging technologies: AI, Internet of Things (IoT), and 5G
The metaverse will improve when it is able to incorporate new technology. Personalization, content creation, and user interactions will all benefit greatly from the usage of artificial intelligence. The Internet of Things will connect the actual world with the virtual one, making it possible for any connected item to be used in any virtual environment. With the advent of 5G networks, users will have access to the ultra-fast, low-latency connections required for truly immersive metaverse experiences.
D. User empowerment and decentralization of the metaverse
An crucial element for the future of the metaverse is user autonomy and decentralization. Everyone needs to feel safe and secure in managing their own information and digital assets. A well-designed metaverse would respect the autonomy of its users and celebrate their differences. We can make the digital future more democratic and user-centered if we decentralize authority and give people agency over the evolution of the metaverse.
IX. Conclusion
A. Recap of the metaverse as the future of digital interaction
When VR, AR, and other cutting-edge technologies are combined, the result is the metaverse: a large, interconnected, and immersive digital realm that marks the next frontier of digital interaction. It proposes a radical new way of thinking about our daily lives, careers, education, and relationships.
B. Encouragement to explore and shape the metaverse's development
Individuals, corporations, and governments all need to investigate the possibilities of the metaverse if they want to have a hand in shaping its future. We can create a more interconnected and welcoming digital future if we take advantage of the opportunities it brings.
C. Emphasis on the need for responsible design and inclusive participation
Conscious planning and broad engagement are critical as we chart a course for the future of the metaverse. The architecture of the metaverse must prioritize adherence to ethical principles, preservation of individual privacy, and prevention of misuse. We can build a metaverse that is good for everyone and paves the path for a more thriving and equitable digital society if we listen to and include a wide range of perspectives in the process.