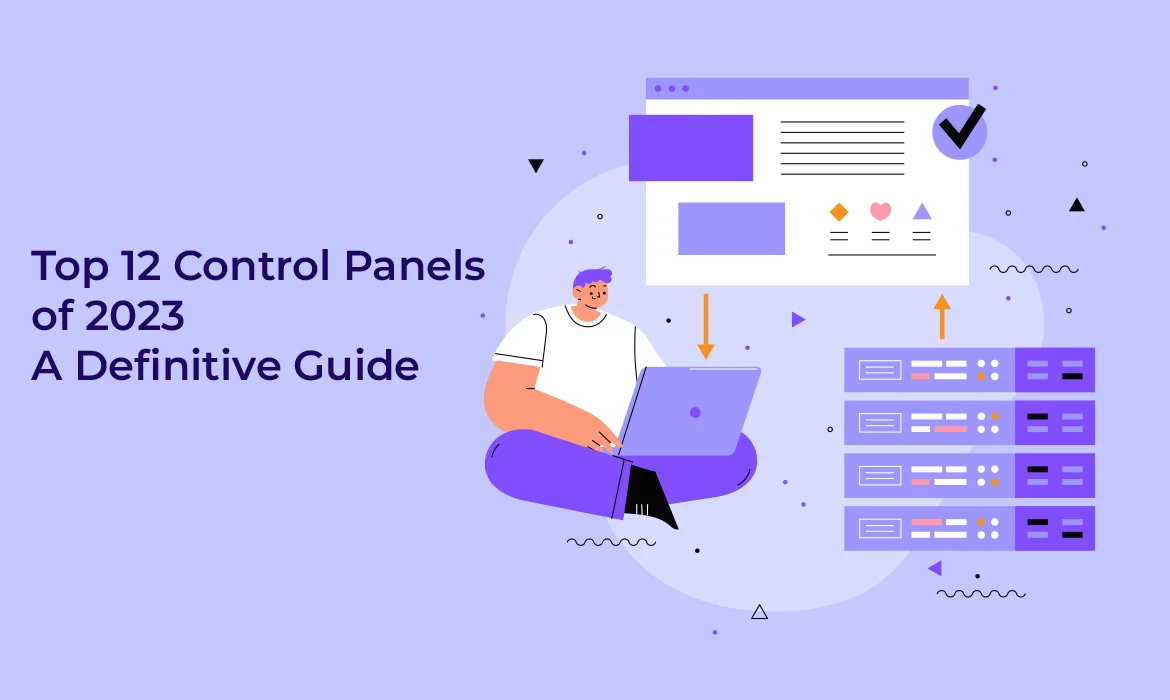 If you are responsible for overseeing servers in web hosting, you likely recognize the significance of having a straightforward yet highly efficient method for monitoring and managing your hosting infrastructure. The optimal approach to handle the various processes associated with routine hosting tasks is through the utilization of a web hosting control panel.
Fortunately, many hosting companies have addressed this need by incorporating their own hosting control panel or Graphical User Interface (GUI). The use of a web hosting control panel enables you to monitor and adjust your server services from virtually anywhere with a stable internet connection. To assist you in navigating the options available on the market, we have compiled this comprehensive guide to help you identify the most popular choices and determine which one is the best fit for your needs.
Table of Contents
Selecting the Right Hosting Control Panel
When opting for a user-friendly hosting control panel suitable for small businesses, it's crucial to weigh various factors to ensure the ideal choice for your requirements. This section will delve into three pivotal considerations: compatibility with operating systems, the user interface, and scalability.
Compatibility with Operating Systems
A key consideration is the hosting control panel's compatibility with your chosen operating system (OS). Different control panels support distinct OSs, making it essential to select one fully compatible with your server's OS. For instance, certain control panels exclusively function with Linux-based systems like Debian, while others accommodate both Linux and Windows platforms.
User Interface
Another vital factor is the user interface (UI) of the hosting control panel.
The UI should be intuitive, easy to navigate, and user-friendly, catering to both novices and experienced users for efficient server management. A well-designed UI can save time and effort, a valuable aspect for small businesses with limited IT resources. Seek hosting control panels with a clean layout, straightforward navigation, and helpful tooltips to guide you through the management processes.
Scalability
Consider the scalability of the hosting control panel. As your small business expands, you may need to oversee an increasing number of websites, domains, and server resources. Opting for a control panel that scales with your business needs is essential, enabling effective management of multiple sites, databases, and email accounts.
Some hosting control panels offer advanced features like load balancing and clustering, facilitating efficient distribution of server resources and ensuring optimal performance as your business grows.
List Of The Most Popular cPanels
1. Webmin:

Webmin serves as a web-centric control panel, providing a diverse set of tools for efficient administration of Linux-based servers. Accessed through a web browser, users can create accounts and manage various functions, including Apache, DNS, file sharing, and more. Notably, Webmin allows users to configure critical operating system elements, covering tasks such as user management, disk quotas, service control, and adjustment of configuration files.
Features:
Versatile Branding Options
User Account Management
Task Scheduling Capabilities
DNS Utilities
Transparent System Information
Package Management
Web Administration
System Configuration
Security Setup
File Handling
Server Insight
Database Management
Swift Mobile User Interface
Browser Control
2. CyberPanel:

CyberPanel is a web hosting control panel designed to streamline the management of web hosting environments. Tailored for seamless integration with the high-speed LiteSpeed web server, CyberPanel offers an intuitive interface for overseeing various aspects of hosting, including website and domain management, database administration, email configuration, and more, aiming to simplify the hosting experience.
Features:
Continuous Development Support
Auto Login
Staging Sites
Enhanced Security Features
Backup Choices
User-Friendly Interface
Instant SSL
ModSec and CSF Integration
One-Click Installation
LiteSpeed Cache
Efficient FileManager
3. Ajenti:

Ajenti is an open-source, user-friendly web-based control panel and administration tool designed for efficient oversight of server infrastructure and applications. Serving as a centralized hub, Ajenti facilitates the configuration of various server elements, including system preferences, network setups, services, and applications. With a focus on streamlining server management, Ajenti caters to both experienced administrators and newcomers to server administration.
Features:
Intuitive Dashboard
Web Hosting Tools
Integrated Web Server
Service Management
Optimal Performance
Network Configuration
Sleek User Interface
Software Packages
Frontend utilizing Single-page AJAX approach
System Settings
4. HestiaCP:

Hestia Control Panel, or HestiaCP, is designed to simplify the administration of web hosting services and server configurations. Prioritizing a user-friendly interface, HestiaCP facilitates easy oversight of websites, domains, email accounts, databases, and various other elements of web hosting. This approach caters to both administrators and end-users, ensuring effortless management.
Features:
DNS Management
MultiIP Support
User Control
One-Click Apps
Two-Factor Admin
MultiPHP Support
Create Nameservers
SFTP Jails
Proxy Cache
Easy Clustering
TLS Certificates
Nginx Caching
SSH Key Access
Multiple Domains
5. CentOS Web Panel:

CentOS Web Panel, known as CWP, is a meticulously designed online control panel aimed at streamlining the management of web hosting environments and servers. Tailored specifically for servers operating on the CentOS system, CWP provides a straightforward interface for users to oversee a variety of server-related tasks, website management, and application administration through an intuitive graphical dashboard.
Features:
User-friendly management interface
Security Settings
Integration of SPF & DKIM
Backup & Restore
FTP Setup
Management of SSL certificates
Server Configuration
Script Installer
Real-time monitoring of the MySQL process
User Management
System Monitoring
Dashboard-based hardware monitoring
Support Resources
6. cPanel:

cPanel presents a unified platform empowering users to efficiently oversee all aspects of their websites and hosting environments through a single, user-friendly interface. Serving as an all-encompassing control panel, cPanel streamlines a multitude of tasks, making it an essential tool for both novices and seasoned web administrators. With its robust feature set and intuitive layout, cPanel serves as a potent resource, providing individuals, businesses, and web hosting providers the ability to manage and govern their online presence with ease and effectiveness.
Features:
Database Launch
DNS Configuration
File Management
Spam Filtering
Collaborative Tools
SSL Implementation
Script Installation
Email Hosting
Database Creation
Resource Monitoring
Website Publishing
Cron Automation
Domain Control
7. AAPanel:

AAPanel is a well-known web hosting control panel designed to simplify the management and administration of web hosting environments and servers. Featuring a user-friendly and feature-rich interface, AAPanel empowers both experienced administrators and beginners to effectively oversee various aspects of their hosting infrastructure. The platform offers an intuitive and visually appealing dashboard, facilitating easy navigation and management of server resources, websites, and applications.
Features:
User-Friendly
Web Server
Database Administration
Security Features
One-Click Installations
Email Management
File Manager
Server Monitoring
DNS Configuration
Backup/Restore
Collaborative Tools
8. Froxlor:

Froxlor is meticulously crafted to streamline the administration of web hosting services and server setups. Offering a suite of functionalities, Froxlor enables users to oversee domains, email accounts, FTP accounts, databases, and more. Catering to web hosting providers, system administrators, and individuals managing self-hosted websites, Froxlor delivers a user-friendly interface for efficient management of web hosting and server administration tasks.
Features:
Quota Management
Customer Management
Custom PHP Setup
SSL Certificate Handling
Resource Control
Access via FTP
Web Statistics
DNS Management
MySQL Database Management
Tailored php.ini Settings
Utilize Let's Encrypt
Individual IP Addresses
Tools for Resellers
9. Sentora:

Sentora is an open-source web hosting control panel specifically designed for Linux distributions. Serving as a no-cost hosting control panel, it streamlines server management tasks. This freely downloadable open-source software not only provides initial access without charges but also encourages continuous improvements and collaborative contributions.
Features:
Quota Control
Community Involvement
Multi-Client Setup
Reseller Capability
Versatile APIs
Custom Branding
Diverse App Store
Module Variety
Language Support
10. ZPanel:

ZPanel, also recognized as the ZPanel Control Panel, was an open-source web hosting control panel crafted to simplify the management of web hosting environments and servers. Offering a user-friendly interface for both server administrators and end-users, ZPanel facilitated the management of websites, domains, email accounts, databases, and other hosting-related services. Designed to work on various operating systems, including Linux distributions like CentOS, Ubuntu, and Debian, it provided versatility for different server setups.
Features:
Web Hosting
Cross-Platform Compatibility
Open Source
Web Server
Database Administration
Email Hosting
File Management
Security Features
One-Click Installations
11. ISPConfig:
ISPConfig is an open-source, browser-based control panel designed to simplify the management of web hosting environments. Catering to both individual users and hosting providers, ISPConfig offers a comprehensive set of tools for configuring, administering, and monitoring web servers, domains, websites, email accounts, databases, and more.
Features:
Multilingual Interface
Security Settings
Manage multiple servers
User Management
Web Server Management
FTP Access
Mail Servers Management
Administrator login
One control panel
Customization
Backup and Restore
DNS Server Management
Statistics and Monitoring
Reseller and Customer Support
Client Login
Reseller Login
12. Vesta Control Panel:

Vesta Control Panel, commonly known as VestaCP, is a free web hosting control panel designed to simplify the management of multiple websites through a unified interface. This platform empowers users to effortlessly create and manage email accounts, FTP accounts, MySQL databases, and oversee DNS records. Vesta CP stands out as a preferred choice, particularly for those new to web hosting, thanks to its intuitive design and incorporation of advanced technologies. The user-friendly dashboard provides an uncomplicated approach to website management.
Features:
Swift Backups
DNS Management
Multi-Domain Hosting
Built-in Security
Web File Manager
Sleek Interface
Cron Job Scheduler
SSL Certificate Management
PHP and Webmail Support
Firewall Configuration
DKIM Integration
Summing up
The hosting panels mentioned above are the most popular, and they receive regular updates in terms of new features and issue fixes. We hope that our review of hosting cPanel's will help you make a more informed decision about which one is the best fit for your needs.
There is no such thing as a flawless web hosting management system; only the one that is most suited to your needs. Certain hosting cPanel's cater to professional users, however other solutions need a less sophisticated level of web hosting administration expertise.
It's a good idea to utilize a renowned and well-supported hosting administration package, like as Plesk or cPanel. That way, if you decide to move hosts in the future, you won't have to deal with any issues.