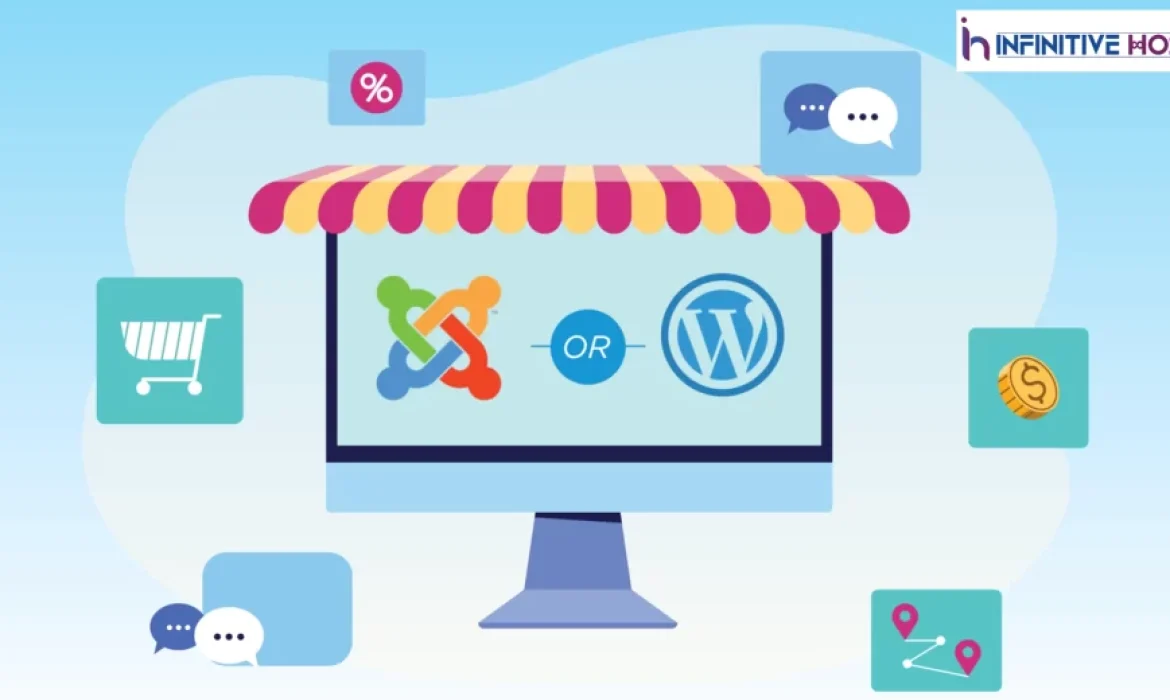 Have you been debating between the two popular blog and website management systems, Joomla and WordPress, for your online shop? Make the best choice possible with our assistance.
Multiple content management systems (CMS) exist that might work for your e-commerce site. Joomla and WordPress are two examples of noteworthy systems. In addition to their popularity, their adaptability is a major reason why so many people select them.
It's fantastic that a single app can serve as the foundation for so many different types of websites, from professional profiles to personal blogs to community hubs to thriving e-commerce operations.
The two content management systems both appear to be capable of handling online sales. Close inspection may reveal, however, that one is superior in certain respects.
To start, what is WordPress?
WordPress simplifies the process of making a website or blog and maintaining it. With its PHP/MySQL foundation, it is compatible with virtually any web host. Moreover, WordPress offers a plugin system wherein additional features may be added through the use of external programs.
Which Group Is It Intended to Serve?
Before its recent overhaul, WordPress could only be used by bloggers and not online retailers. People from various walks of life now use WordPress, from lone bloggers and web designers to entrepreneurs and even large corporations.
For many, WordPress's primary selling point is its flexibility; once you've got the hang of things, you can make changes rapidly without having to re-learn anything or even pick up any new skills.
Extra inventory, shipping, tax, and payment functions may be added in a matter of minutes with one of the many available plugins.
To what end is WordPress employed?
WordPress's primary goal is to make it simple for users to publish material on their website or blog. This includes the creation of pages, posts, categories, tags, as well as the management of comments and links.
However, WordPress is also excellent for handling other aspects of an e-commerce site, such as stock and payments.
Read More: Perks Of Using Managed WordPress Hosting
Joomla: What is it?
Create your own website, blog, or online store using Joomla, a free and open-source content management system. It can be utilised by anybody, is highly effective, and may be expanded upon. There is a sizeable group of developers that volunteer their efforts to improve Joomla.
Which Group Is It Intended to Serve?
Joomla may be used by just about anyone. It has everything you need to launch an online store, and you can even build a bilingual site without installing any more tools.
The technical knowledge required to build up a more complicated, adaptable website is Joomla's sole real constraint. Online store owners in these situations might benefit from using a web administration solution.
Millions of websites run on Joomla, attesting to the popularity of the content management system. This indicates that there is a large community of individuals who understand what you are going through and are willing to help you through it.
Why Do People Use Joomla?
Joomla allows you to quickly and simply build a website from the ground up. The integrated drag-and-drop capability makes it incredibly easy to upload media files (such as articles, photos, videos, and audio files) to your site. In case you'd rather not utilise one of the provided examples, you may always create your own from scratch.
Building an online store is a breeze with Joomla. Assuming the user has some familiarity with code, they have nearly limitless customisation choices in terms of design, inventory management, and shipping. But even if it doesn't, Joomla is still an excellent platform for novices to learn and use.
Online Stores and Infinitive Host
Let's pretend you really care about your online shop. If your site doesn't load in three seconds or less, visitors are 50% more likely to leave their shopping carts.
Infinitive Host provides fast, managed VPS options in a streamlined CPanel. From the comfort of your intuitive dashboard, you can direct all operations while we make sure your consumers enjoy a seamless shopping experience.
Additionally, Infinitive Host works directly with both the WordPress and Joomla projects, guaranteeing special tools for the customer's ease of use, such as one-click installs, automated updates, password management, and many more. Even Joomla's co-creator, Brian Teeman, moved all of his websites to our servers after hearing how well they ran on our website, making us one of the most highly recommended platforms for working with Joomla.