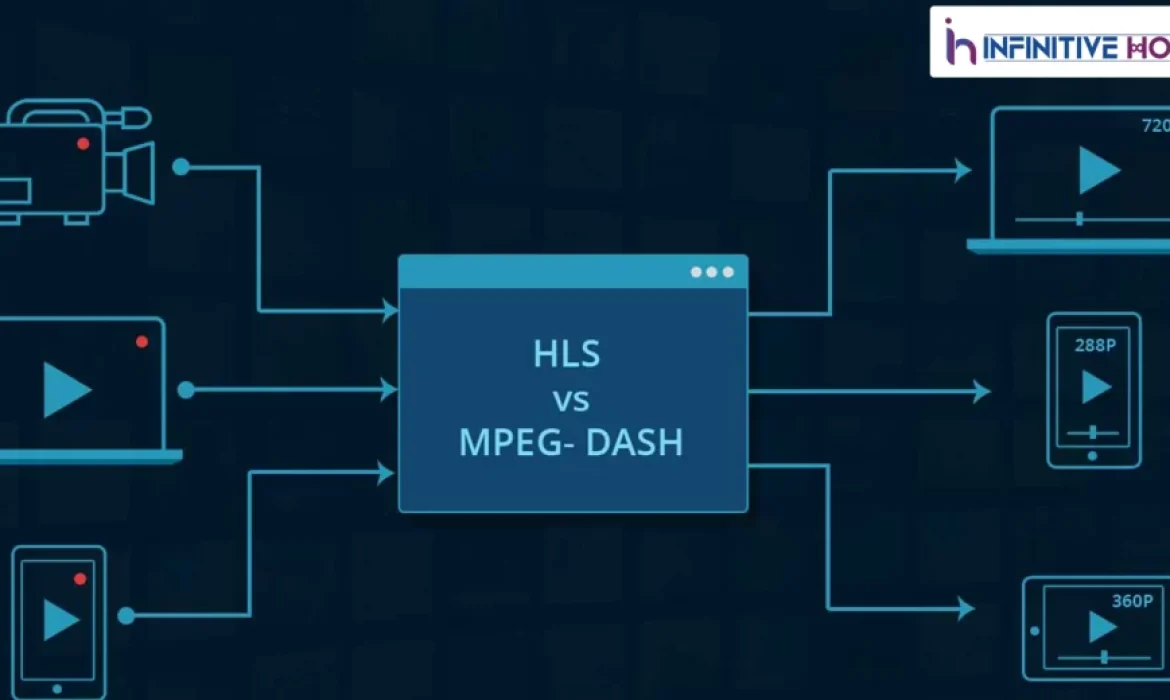 Mobile video streaming traffic is expected to reach 42,734 petabytes per month by the year 2021, according to recent polls. It is predicted that by 2022, internet video traffic will exceed 282.3 exabytes per month.
In many countries, internet service providers and those with metered connections are under pressure from these demands.
The correct streaming protocol and meeting end-user demands for high-quality streaming are critical if you want to give your viewers access to streamable material. It's easy for viewers to lose interest and go on to something else if the service they're using has poor streaming quality, choppy audio, or just plain buffering. In addition, copying and storing should be impossible unless you intend for this to happen accidentally.
HLS, MP4, and Dash are the most often used options. All of this information is at your disposal to help you make an informed choice.
What is 'HLS' in Video Streaming?
HTTP Live Streaming is referred to in one word as 'HLS.' A streaming media protocol developed by Apple in 2009 to fix the problems with streaming media on the first and second generations of iPhones has been accessible since then.
Quicktime, Apple's prior streaming technology, might be considered to some extent as being replaced by HLS in many ways. Many firewalls were designed to prevent Quicktime because of its usage of nonstandard ports, rendering it unstable for general use.
What is 'DASH' in Video Streaming?
A DASH stream is one that dynamically adapts to the user's needs. A worldwide authority on media compression known as MPEG (Moving Pictures Expert Group) established DASH.
This protocol has no proprietary restrictions because it is a more recent standard. However, ISO (International Organization for Standardization) has only recognized it as a streaming solution.
What is 'MP4' in Video Streaming?
A video container format is known as MP4, or MPEG-4, has been around for a long time, but the codec itself does not support HTTP streaming. All that occurs is that the browser sends a request to the server, which reads the disc file and sends it out. Unlike other protocols, this one doesn't help adjust bandwidth or address lag-related concerns.
Which is better among the three?
The intended use of the stream will determine the protocol you use. What questions should you ask yourself before making a decision?
A third-party distributor such as vMPVDs or free ad-supported TV services (FASTS) may get the stream, but will it be available in your direct-to-consumer apps?
These questions will assist you in comparing, for example, HLS vs. DASH streaming.
The adjustable bitrate, excellent quality, ease of firewall traversal, and device support offered by HLS and DASH streaming make them ideal for live performances. In addition, the widest range of devices supports HLS.
In addition, Facebook and sites like Twitch are good options for social media streams, and Playout makes it simple to get started with linear streaming.
We have a variety of streaming and content delivery suites available if you're unclear how to establish streams or handle these protocols. As a result of our CDN network and transcoding capability, we are able to distribute video to viewers across the world in a variety of formats for live streaming, VOD, and downloading media.
With Infinitive Host, it's simple to give your customers an experience of a live stream that gets dependable, high-quality, and fast. Just select the formats you want and let our program handle the rest. Please contact us if you'd like to get a demo of our products.