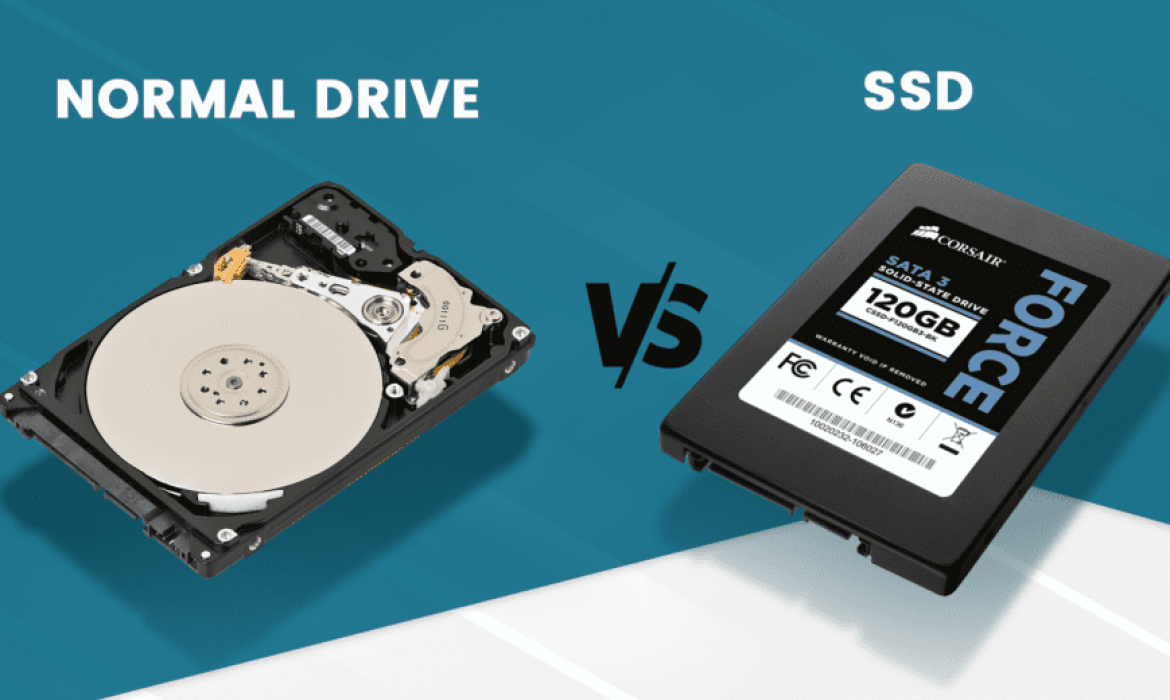 ​HDD (Hard Disk Drive)
Non-volatile storage, such as a hard disc drive, is what it sounds like. It refers to data that can be stored even if the power source is unplugged or switched off. In order to read and write data, an HDD uses a mechanical platter and a rotating head that spins around. To help move the heads' arms, a tiny motor is frequently added to the head.
The tracks on each platter are arranged in a series of concentric circles. Sectors are the logical divisions made from these individual tracks. Each track and sector number has a unique address that can be used to locate and access data. The information is kept in the most convenient location. The platters of most HDDs rotate at a rate of 5400 RPM (revolutions per minute). Data can be accessed more quickly on a hard drive with a higher rotational speed (RPM).
​SSD (Solid State Drive)
One of the newest and fastest non-volatile storage devices is the Solid State Drive (SSD). SSDs, in contrast to HDDs, do not have any moving parts, such as platters, heads, or arm mechanisms. Data may be retrieved instantly thanks to the use of integrated circuits in the device. NAND is a term used to refer to the interconnected flash-memory chip that these ICs are a part of. SSDs run cooler and use less power because they don't have any moving parts. Laptops and other SSD-based gadgets benefit from it by having longer battery lives.
SSDs have a similar mechanism to large USB drives, although the flash chips used in USB drives are different. SSDs are more expensive than USB flash drives because of this. NAND, a type of flash memory, is used in these storage systems. To store data at the lowest point, they use floating gate transistors. Using a grid system, these gates are organized into a block. A page is a row of gates that form a grid pattern when arranged in this way. In these well-ordered blocks, the information is kept safe.
​Key Differences between SSD and HDD
Let's checkout some of the key differences between HDD & the SSD :
1 . There is a major difference between SSD and HDD in R/W speeds. Even a low-cost SSD can outperform a traditional hard drive in terms of performance.
2. Size is another huge difference. While a hard drive can be as large as a solid state drive (SSD), it is also accessible in smaller, more portable form factors (Random Access Memory). These days, modern SSDs can be built right onto the board.
3. The price gap between SSD and HDD is one of the most significant features of these storage technologies. SSDs are substantially more expensive than HDDs. Due to its great performance and tiny size, though, paying such a high price for a solid-state drive is still worth it.
Related:- SSD NVMe vs. SATA: A Comprehensive Guide to the Differences
​Major Differences between SSD and HDD
The following table explains the other major distinctions between solid-state drives and hard disc drives:
| | | |
| --- | --- | --- |
| Attribute | SSD | HDD |
| The Entire Message | Solid state drive (SSD) is referred to by the acronym SSD. | When discussing a hard drive, HDD is the abbreviation. |
| Parts of a machine | There are no moving elements in a solid-state drive (SSD). An electrical component, such as an integrated circuit, is the only thing present (ICs). | Mechanical components are used to build HDDs. It has a rotating head and arms, as well as platters. |
| In terms of Size | SSDs come in a variety of sizes. It can be the same size as a hard disc drive (HDD) or even smaller. | HDDs have a bigger physical size than SSDs. Sizes range from 3.5 inches (for desktop computers) to 2.5 inches (for mobile devices) (for laptops and notebooks). |
| Weight | Unavailability of mechanical parts & compact size makes SSD light-weight compared to HDD | HDD is a little more cumbersome than SDD. |
| R/W Time | As a result, SSDs have a lower overall R/W throughput. | There are more R/W cycles in HDD. |
| Per second operations | Solid-state drives (SSDs) can perform more I/O operations per second. | There are fewer I/O operations per second supported by HDD. |
| Latency | Latency is increased in SSDs. | HDD consists of lesser latency. |
| Problem of Fragmentation | Fragmentation is not an issue with solid-state drives (SSDs). | The HDD is prone to fragmentation. De-fragging is a necessary aspect of keeping it in good working order. |
| Data Transfer | Random access is used to move the data around during transmission. | The transmission of information occurs in a linear fashion. |
| Cost | SSD is a lot more expensive than HDD, by a significant margin. | HDDs are less expensive in the long run. |
| Release Time | SSD is a more recent form of storage and is often referred to as the gadget of the future. | Traditional storage refers to hard disc drives (HDDs), which are considerably older storage media. |
| Noise | SSDs are completely silent. | A hard disc drive (HDD) can make noise when it spins or moves in any other way. |
| Reliability | SSDs are far more dependable than HDDs. | HDD is less reliable than SSD because it is made up of mechanical components that can fail. |
| Power Consumption | SSD is more energy-efficient than mechanical drives because of its lack of moving parts. As a result, battery life is improved. | HDD's motor, which spins the platters and moves the rest of the drive, uses more power than most other drives to accomplish these tasks. |
What's the best option?
The user's needs and budget must be taken into consideration while choosing a storage solution. SSD is a good option for individuals who will pay whatever it takes to get the best performance. In addition, HDD is the preferred storage option for those with only the most basic computing needs that want to get their system up and running as quickly and cheaply as possible.
However, if you're on a tight budget, using SSD and HDD together is your best bet for optimal performance. Storage and processing can be done at the same time in a modern computer system. As a result, a low-capacity SSD with an operating system loaded on it will perform better with an HDD. User data (including photographs, audio, video and documents) can be kept on an HDD while the software is stored on an SSD. This will improve the performance of system software and activities.